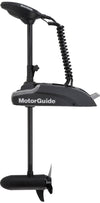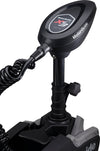 MotorGuide Xi3 55lb 36" Trolling Motor (Non-GPS)
Wireless Control: control in the palm of your hand.
Intuitive remote-control steering is ready for use right out of the box. Also compatible with optional wireless foot pedal.
Easy Stow and Deploying: a large SecureStep lever allows fishermen to quickly and easily stow and deploy, saving you time and energy as you bounce from spot to spot.
Pinpoint GPS: focus on fishing while Pinpoint® GPS technology wirelessly Jogs, Anchors, Replays Routes and more.
LED Dashboard: easily monitor functions – even in bright conditions – with four LED notifications showing Power, Propeller Activity, Pinpoint® GPS status and Battery Life.
Additional Features:
Digital Power Management for up to 5x longer battery life 
50% easier to stow and deploy than the competition 
40% quieter than competitors 
Total control available with major sonar brand display
Compatible with the following kayak models and more:
Bonafide - SS 127
Native Watercraft - Slayer Propel Max 12.5
Nucanoe - Unlimited
Nucanoe - Frontier 12
Nucanoe - Pursuit
Nucanoe - F10
Hobie - Pro Angler 17T
Jackson - Big Rig

Bluesky Boatworks - 360 Angler
Bluesky Boatworks - 360 Pro
You can return any item to us within 10 days of receiving your purchase. The item must be unused and undamaged. The buyer is responsible for all return shipping costs.  Returns can be sent to the address below using your preferred shipping method.
BIG Adventures LLC
Attn: RETURNS (PUT YOUR ORDER # HERE)
210 Old Airport Rd         
Fletcher, NC 28732
Refunds are processed within 2-3 business days once the item has been  received and inspected.  
To save on shipping costs, you are welcome to bring the item right back to our factory store in Fletcher, NC. If you are interested in making a return or exchange, forward your emailed order confirmation to us at support@bonafidekayaks.com with your request.
100% Money Back
Guarantee